This 6 ingredients whole wheat bread machine recipe is adapted from the one I found on 100 Days of Real Food. Their recipe wasn't sweet enough for me so I had to make a couple of changes for us 'sweet toothes'.
Well, I can't say that exactly either. It's not terribly sweet or sweet at all. Just a little something to cut the blah of whole wheat if you know what I mean 😉
Below you will find my exact recipe. Feel free to create your own and share it with me in the comments box below!
Take a look at the video demonstration that I have put together for you as reference.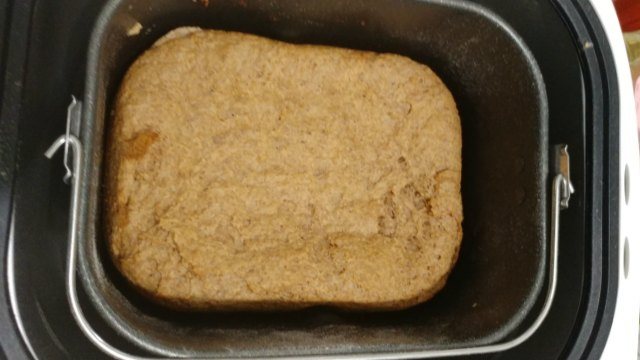 Whole Wheat Bread Machine Recipe
Whole Wheat Bread Recipe for Bread Machines. This is not for baking a loaf of bread in the oven. ***The time this recipe will take to cook will depend completely on the bread machine that you use. To find out what bread machine I use, click the link below: https://youtu.be/l3H1WbIhFCg
Ingredients  
4 1/4

cups

whole wheat flour

3/4

tsp

salt

1 1/2

cups

warm water

1/2

cups

natural honey

2

tbs

olive oil

2 1/2

tsp

bread machine yeast

This is more than 1 packet
Instructions 
Add ingredients according to the manufacturer's instructions for your bread machine.

Set your bread machine to whole wheat and the crust type you prefer if applicable

Start your bread machine and let it process only opening it at the end of the first kneading stage to ensure your dough is the right consistency. DO NOT OPEN YOUR BREAD MACHINE WHILE COOKING!

Once it is done, turn the machine off. Note that many bread machines have a cooling phase that keeps the loaf warm.

Let stand for 10 minutes to cool down. Remove with hot mitts or gloves.

Scrape around the edges of loaf pan with a dull knife. Turn pan upside down and it should release right away.

Cuts or serve as desired. Enjoy and pleasant appetite!
Notes
Read the manufacturer's instructions on how to use your bread machine especially when it comes to:
the order you add ingredients to your bread maker
the setting you need to choose for the type of bread you are making
the setting you need to choose for your desired crust when applicable
Be aware that your bread maker will likely beep multiple times during the bread making process, be sure to figure out which one signals the end as many bread machines will stay on warm mode. This will further cook your bread's over time and may burn your bread.