Hey there! If you've followed us for any amount of time, you know that we've had a pretty hard year. 2 miscarriages, COVID, injuries and life in general has been tough. So I said enough is enough, we need a break and that's what we're gonna do. I booked us a hotel and we went on a spontaneous Myrtle Beach Family Vacation for 3 days.
Technically we only stayed one full day, 2 nights at the resort, but it was a much needed break for us to get away together and have some family fun! And that we did. So right now I want to share with you a little bit about how it went:
some of our activities
restaurants we ate
the resort we stayed at
and more!
If you're new here first of all we want to say welcome to MokenchiTV.com. This is our sister site to our YouTube channel MokenchiTV. We are a biracial family vlogging and lifestyle channel. We share:
Family Travel
Cooking
Family Health & Wellness

workouts
stress relief like adult colouring books, affirmations, etc
healthy eating tips

And some pet tips here & there!
If you want to learn more about our channel, feel free to visit us by clicking the button below:
Click Here To view MokenchiTV on YouTube
Myrtle Beach Family Vacation: Day 1 – Road Trip from NC to SC
On the first day we left right after I got out of work. Like I said, we really crammed this trip in. If you are sitting there wishing you could travel, my three words of advice is 'GO FOR IT!'. 
Our daughter was out of school for two days and this was not really planned. Like I said, I literally texted my hubby some resort options and told him pick one. He picked and I made the reservations probably about two weeks before we left.
I got off work the morning we left and hubby had to go in the same day we left Myrtle Beach. Not to mention I was dealing with our miscarriage at this point since I hadn't passed the birthing material. More on that to come but the point is that things/Travelling is possible but you have to make them happen.
Myrtle Beach Family Vacation Day 1 Vlog
(Click here to watch our Family Vacation to Myrtle Beach, SC on YouTube)
The first day was driving the 4 hours to get to Myrtle Beach, South Carolina from where we live in North Carolina (NC). I always love crossing the boarder between the two states because the landscapes are so different. You might not expect it since they're both the Carolinas but they are very different states…yet at the same time hold strong to that southern charm and hospitality that you just don't find in many places.
Where Did We Stay For Our Family Vacation to Myrtle Beach SC 2022
When I did my research, I originally narrowed it down to two choices:
As I said, I left it up to hubby to decide. He chose Compass Cove® Oceanfront Myrtle Beach Resort so that's exactly where I made reservations to. I won't go into too much details right now about how we liked it because I have a whole other review article & video that you can check out here or you can wait until later in this article to see some quick notes.
I will say that we liked it, however, there are a couple of things you might want to know about first so be sure to checkout our resources.
Where Did We Eat for The First Night?
The first thing you need to know about our eating strategy when we left was that I was literally OBSESSED with a chicken restaurant that I knew we would pass on the drive to Myrtle Beach. The only thing was that I didn't remember what it was called. I did know it was about halfway there which would take us about 2 hours to get to. For that reason, we didn't eat too much when we left.
The thing was…I ended up falling asleep! So I think hubby either passed it or we think the GPS took us a different way since there are a couple of different ways to get there.
Needless to say that we were starved by the time we got to the beach. So we checked in and headed straight to the resort restaurant called The Crow's Nest Oceanfront Dining.
It was not bad but not the greatest either. Something good to sink our teeth into cuz we were hangry, to say the least lol!
Once we got some food in our bellies we were able to focus on unpacking and all that good stuff. Of course, we still got hungry later on in the night.
Of course hubby & daughter had to hit up the pools and beach, so we did that for a while. When we came back there was a pizza flyer jammed in our door.
"Yum!" I said, "cheese pizza sounds delicious right now!"
Well, I wanted to get delivery, but hubby insisted we eat somewhere. So we set off looking for the place. Actually, the flyer didn't have the address so we called the number to find out where they were.
I don't even think the person we talked to knew where they were because we never did find the place even after calling several times. 2 hours later and after trying a few other pizza options, we ended up settling for Wendy's! (Which was actually really good so shoutout to the cooks and staff at Wendy's in North Myrtle beach!)
I think hubby got a burger, I got some nuggets which hubby and I snacked on during the drive back to the resort (Keebs was sleeping in the back, lol!), the spicy chicken burger, and Keebs got nuggets and fries all around.
We settled in for the night. I guess God was on my side because we ended up eating at the resort! We watched a cooking show and that was the end of Day 1 🙂
Click Here To Watch The Full Day 1 Vlog!
Family Vacation To Myrtle Beach SC Day 2: Sandcastle Building Battle & Fancy Lunch
On the second day of our Family Vacation to Myrtle Beach, SC, it was hubby & daughter's turn to be obsessed about something. What was it you ask? Well, keep reading to find out!
(Click Here To Watch Day 2 of Our Family Vacation To Myrtle Beach, SC)
Family Vacation to Myrtle Beach SC Lunch At Wicked Tuna
From the time we woke up, hubby was OBSESSED with eating lunch at this fancy restaurant on the pier. He said he'd been there with his parents and wanted to take me there since I missed it. Keona & I were visiting my parents at the time.
The restaurant he's talking about is called The Wicked Tuna at 2nd Pier Avenue. I couldn't think of anywhere else to go so I gave in and we went there for lunch.
Honestly, hubby & I were kind of stuck on the phone doing business for half of it. As you know we run our lawn care business, not that it took over the vacation, but he had some quick business matters to schedule because life goes on afterwards. I had to also be on the phone to schedule my D&E operation & go through the prescreening process for that since it was scheduled for that Monday (Update coming soon).
That being said, we were still able to enjoy lunch. Hubby got an adult cocktail or something. It was really weak though and not worth the money. We also got:
Appetizer: Grouper bites
Hubby: Shrimp & Grits
Me: Lobster tails & risotto
Keebs: a filet of salmon & we gave her some of ours. She had one of my lobster tails since I didn't want to fight with it to get it out of its shell. She enjoyed doing the job, lol!

she also had a chocolate mousse dessert
Overall the food was ok, not great but not terrible for sure. Hubby & I both agree that it wasn't nearly worth the price. Yet at the same time, the price is pale in comparison to being able to spend quality time together. In that sense, I guess any price is worth it.
After lunch, we shopped around a bit at gift shops where they got their sandcastle-building supplies like buckets, shovels, etc. Then we hit the beach! By then our food had been digested.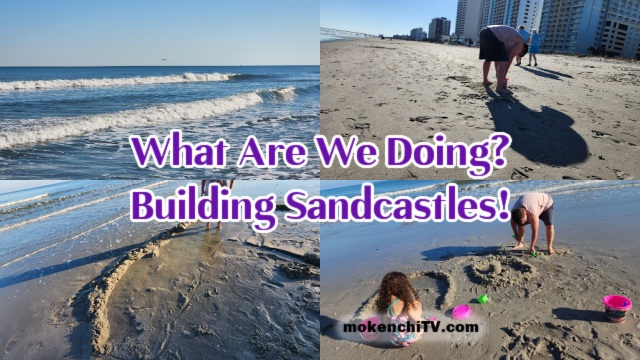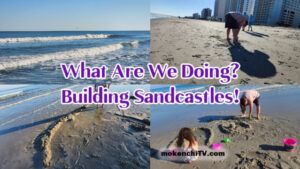 Honestly, I left the sandcastle building to those two. I collected shells and took pictures. Honestly, I took so many pictures I can't share them here. You're gonna have to catch them in the more in-depth, daily articles and videos.
Also be sure to catch the vlog to see how well, or not, their sandcastle stood up to the waves. You might be surprised by this one!
Spending the day at the beach took it out of us. On the common theme of being obsessed, I was determined to get my REAL New York-style cheese pizza. If you're a NY-style cheese pizza fan, then you know they're NOT the same as regular pizza.
So after we did some research and heated debating about where to go, we settled on a little Italian Pizzeria & Bakery that was actually really close to the resort. It is called Tofino's Pizzeria. It was a cut little place that included indoor & outdoor dining AND it had its own little bakery where you could select the desserts you wanted!
I'll tell you, it has been years since I had a good REAL NY-style cheese pizza. It was delicious!
Hubby got a buffalo chicken sub that we shared for our appetizer, getting the most of our money that way.
Keebs also had a slice of cheese pizza. Hubby had chicken parmigiana. We all enjoyed ourselves. Hubby said Toffino's is on his regulars list. I say they're good but I'm willing to try other options to see if there's something better, lol.
We also got some desserts but they weren't that great. The food was the highlight.
We closed our night watching True Crime which I think I have got my daughter addicted to now. I'm not complaining because she needs to be aware of things that can happen. Of course, no child-inappropriate content. Still have to be selective but, for me, there are some episodes that are ok for her to watch.
Click Here To Watch Day 2 Vlog
Day 3: Time To Go Home
Can I just say that this vacation went by too fast. We really enjoyed ourselves. It was so good to see hubby cut loose and enjoy himself too. I loved watching my family laugh and play.
So I can understand them being upset about having to leave. This has definitely recharged my battery and my motivation to work on this site and other things to help increase our income so that we can afford to stay longer next time.
But at the same time we must be grateful for the time that we did get to share. There are many people and families that can't get to spend time like this travelling on a whim for many reasons. That's why I kept telling my daughter she must be grateful and keep striving to work hard and do better.
Day 3: Video
(Click Here To Watch Our Day 3 Vlog)
Even though we had to leave pretty much right away, hubby got to hit the breakfast buffet. Now I'm not crazy about buffets or breakfast but this is something he enjoys so I'll live with it 😉
Honestly, it wasn't that great but again the experience was really worth it. I also think they were having some major staffing issues so I would try them again at some point.
The drive home was awesome because I FOUND the chicken place I was OBSESSED about on the drive there. So of course, I stopped and got some chicken. No footage though because we were in a time pinch but it was delicious to sum it up with one word.
Overall it was a good vacation. Now I want to talk a little bit about the resort before closing out this article.
Compass Cove® Oceanfront Myrtle Beach Resort Under Review
As aforementioned, we decided on staying at the Compass Cove® Oceanfront Myrtle Beach Resort. Our room was the Oceanfront Queen Suite which included:
2 queen-sized beds
1 pullout bed
1 bedroom
separate living area
kitchen including stove, fridge, cabinets, utensils, etc.
bathroom with tub
oceanfront view (not to be confused with ocean view)
You can see our room tour on our channel  MokenchiTV on YouTube
Compass Cove® Oceanfront Myrtle Beach Resort Room Tour & Review
(Click Here To Watch The Compass Cove® Oceanfront Myrtle Beach Resort Room Tour & Review Video on YouTube)
When it comes to doing a review I believe in speaking on the goods and areas of improvement on the subject. This resort is no different.
I believe in ending with the positive so we'll start with the areas of improvement
Compass Cove® Areas of Improvement
The door in our room was broken
Light fixtures did not work properly
Cracked walls & tiles
Sprinklers & other areas looked like they hadn't been cleaned/maintained in a while
Compass Cove® Goods
Beautiful, unobstructed Oceanfront view

those sunsets & sunrises are magical

Spacious room
Separate sleeping and living areas (Note: not all rooms are like this)
Decent-sized kitchen area
Decent sized bathroom
Multiple pools & hot tubs
Resort is a lot bigger than we thought

multiple buildings accessible to all guests only
no public access
At the end of the day, I do recommend Compass Cove® Resort if you are looking for a good, regular resort to stay in. If you are looking for something high-end and fancy this probably isn't the place you are looking for.
Once again, I thank you for coming along with us on our fun, albeit brief, journey to Myrtle Beach, South Carolina. If you have any questions, comments or other concerns feel free to drop them in the comments box below.
If you want to see more of our vlogs, cooking videos or/& other content, click the button below to view our channel on YouTube. Don't forget to subscribe and ring the bell so that you don't miss out on any of our future publications. Otherwise, we'll see you next time!