Since I've started my Real Estate licensing, time has become increasingly tight. I know I could meal prep but lets be honest here, or maybe it's just me but, eggs are nasty heated up, lol.
This Spinach Mushroom Omelette with Cheese Recipe is a LIFESAVER when it comes to keeping yours and your family's eating healthy. Trust me, we can easily slip into buying food every day for every meal.
This recipe works. The best thing is that it is FAMILY APPROVED! My 5-year-old and my hubby love it equally.
My daughter tells me I'm the best chef every time I make this. And let me tell you just in case you don't have kids. 5 years old = brutally honest, LOL! If she didn't like it, that food would sit right there on that plate.
Parents, am I right or am I right?
If you try this recipe, I would love it if you tagged me on YouTube or Instagram to let me know how you like it. I'd love to see your results too. Please don't try to be 'perfect'. This is about sharing our creations and like art, it can come out in so many ways.
It's simply all beautiful! So let's make REAL FOOD together. Look forward to connecting further 🙂
Looking for a good microwave oven? Click the button below to see our top recommendations.
Click Here To Learn More About the Best Countertop Microwave Ovens!
Spinach Mushroom Omelette With Cheese on Instagram
 

 

 

View this post on Instagram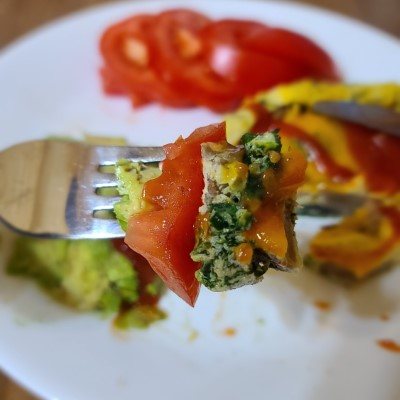 | | |
| --- | --- |
| | |
In a small bowl, scramble eggs and seasoning.

Add a few droplets of olive oil across the bottom of your microwave dish or microwave omelet maker.

Add veggies and cook them in the microwave, covered, for 2 minutes on HIGH. If you have a powerful microwave reduce to 80%.

Stir and cook in the microwave for 2 more minutes or until cooked to your desired doneness.

Sprinkle cheese, let it melt then serve. Enjoy!