Countertop Microwave Ovens are one of the most versatile appliances that you can have in your kitchen. Not only can you reheat leftovers and pop scrumptious popcorn but you can also cook, grill and even bake depending on the model.
With all these choices, it's hard to determine what're the best countertop microwaves ovens of 2018. Well, I've set here with my three-year-old climbing over me like a tree to research over a couple of days in order to provide you with the best information and recommendations available for your choosing.
There are 15 in total divided into 3 distinct groups:
You'll find out in a little bit why they're broken up into these categories when you read my guide that tells you everything you need to know about choosing the best microwave oven. Be sure not to skip it because I wouldn't want you to choose a unit that isn't suited for your needs and unique situation.
How To Choose The Best Countertop Microwave Oven
Technology is amazing and it is this way with countertop microwave ovens. They are so advanced that they can sense if your food is done or not, bake, and grill pizza to name a few cool features.
But before you get swept away by all the awesomeness, it is important for you to define if you need certain features or not. You also need to make considerations like:
external space requirements/restrictions
internal capacity requirements
how fast you want your food to cook
External Space Requirements/Restrictions
It is important to know that your countertop microwave oven should have at least 3 inches on each side that nothing will be placed. This will allow it to have proper ventilation so that you can avoid any unnecessary accidents like fires or electric shock.
That's the last thing I want to see happen to you so please take this seriously.
In order to figure out your maximum size, measure the entire area where you plan to place your unit. Then subtract 3 inches from each side.
What you are left with is the biggest size of microwave oven that you can fit on your countertop.
Internal Capacity Requirements
The capacity is the amount of space that you will have access to inside the microwave oven. This will be different from the exterior dimension and there are no standard measurements for the surface area.
In order to get an idea of how much space is inside the unit, you will look at the unit's cubic feet. The sizes run as follows:
If you don't know, cubic feet is calculated by multiplying the length by the width/depth by the height. Now I'm no math genius either so don't feel bad if your skull is hurting right now but the important thing to note is that there is no telling how much actual space you have to work with until you look at the measurements on the product's listing.
Desired Cooking Speed
The speed that your food will cook, reheat and/or defrost is largely determined by the power output of your microwave oven. In order to know how powerful a unit is, you will look at its watts.
In general, lower watts means that your food will process slower and less even. On the other hand, higher watts will cook your food faster and more even.
Larger units usually use more watts than smaller ones. And the more watts it has the more electricity it will consume to run.
In order to find out how much watts the microwave oven has it will be listed in the product information.
What're The Best Countertop Microwave Ovens 2018
If you want to see a specific size, please click on the respective title below.
Here's the list of the Best Countertop Microwave Ovens:
The Best Compact Countertop Microwave Ovens of 2018
1. Toshiba 0.9 Cu. Ft. Microwave Oven (EM925A5A-BS)
This microwave oven is for you if you want a small unit that you have the option to turn off that annoying beep. Beep with every keystroke, beep multiple times when its done, beep to keep reminding you its done…
No. More. Now you can turn it all off including key touch beeps.
If you have kids, pets or are caring for an older person who's mind may be wavering, you will also appreciate that this device comes with a child safety lock. You can use it to keep your microwave secure and avoid accidents or injuries.
This microwave is 900 watts and comes with:
a glass turntable to help heat your food evenly
6 pre-programmed functions to make cooking as easy as pressing a button

popcorn
pizza
frozen vegetables
beverage
dinner plate
potato

10 power settings
And a whole bunch more! You can read more about it by clicking the button below.
---
2. Danby 0.7 Cu. Ft. Microwave Oven (DMW14SA1BDB)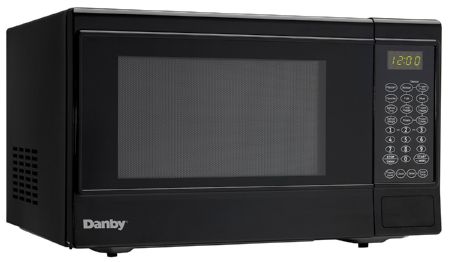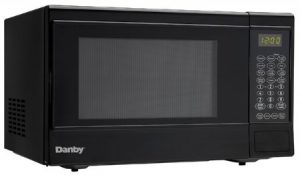 The Danby 0.7 Cu. Ft. Microwave Oven is a great unit for an office setting. The reason I say this is because it is very compact but big enough to fit what you will likely have at the office which is smaller containers or plates. 
That means you don't need a big unit to heat up your food. Additionally, you won't have a lot of space at the office for a huge microwave, so this one's smallness is a benefit and saves a lot of space.
Even though it is smaller, it still works and gives you everything you need. This unit is equipped with all the standard one-touch functions like popcorn and pizza which will enable you to get a quick bite to eat even on those busier days that sesem like you don't even have a chance to breath let alone eat.
Of course there is much more to this unit, so if you want to learn more about it, you can click the button below.
---
3. Panasonic 0.8 Cu. Ft. Countertop Microwave Oven With Inverter Technology (NN-SD372S)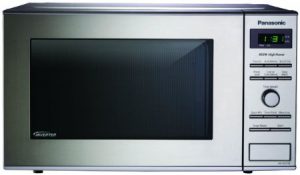 If you're looking for a countertop microwave oven that is sleek and packed with the latest technology, the Panasonic 0.8 Cu. Ft. Microwave Oven is for you! It utilizes Inverter Technology which cooks your food more evenly and defrosts more thoroughly.
That's because with inverter technology, the microwave delivers constant temperature instead of pulsing high power like most other microwaves. You won't have trouble using it either because all you have to do is push a button and set the time with its pushout dial when necessary.
With Inverter Technology you can also prepare foods like soups, eggs, appetizers, meats, etc. which will save a lot of mess in your kitchen. No pulling out pots and pans then slaving over a stove after a tiring day at work, class, travelling, etc.
You will also enjoy that this unit is much lighter than standard microwaves because it needs less circutry to work. This unit has safety lock too so you don't have to worry about your kids or pets getting into mischief…at least not with the microwave anyway, heh-heh. 🙂
There is so much more to this microwave, I couldn't possibly fit it all in this blurb. I couldn't even fit it all on a single page of notes!
Thousands of people are already enjoying this device and you can be too. Click the button below to read what others are saying about this unit and see if it is a good fit for you.
---
4. Westinghouse 0.7 Cu. Ft. Counter Top Microwave Oven (WCM770W)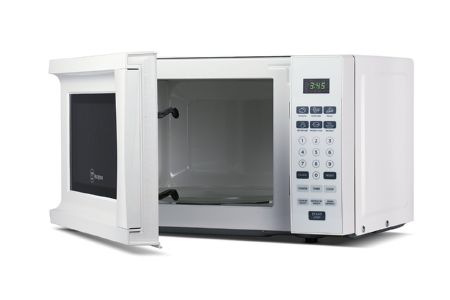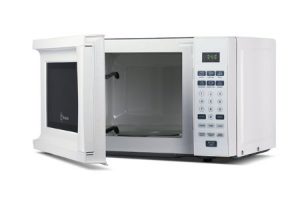 The word that comes to mind when I look at this microwave oven is simplicity. The touchpad buttons and layout are all neatly situated and easy to read so that you have problems navigating to your desired function.
You have 3 options for color to choose from with this unit; black, white, stainless steel. And you have 6 preprogrammed, convenient cooking settings to choose from for seamless food prep.
This unit is great if you struggle with complicated setups. The great thing is that with this microwave oven you won't be losing quality either.
It also has child safety lock so if you're a parent, grandparent or other caregivers, you can rest assured that you will be able to keep your little one's fingers safe and sound from harm.
If you want to learn more about the Westinghouse 0.7 Cu. Ft. Counter Top Microwave Oven, click the button below.
---
5. Westinghouse 0.6 Cu. Ft. Counter Top Rotary Microwave Oven (WCM660B)
This compact microwave oven is perfect for you if you live in a single room situation like a dorm or studio apartment because it has no display lights to keep you up at night.You control this device with two knobs that have all the presets and times you need.
This style of knob control is also great for you if you have a visual impairment because the number of switches between each control will help you to memorize the settings. Another great feature that will help you is the easy grip handles which will make operating it a lot easier since you will have a better grip on the handles.
Its not quite as powerful as the other models but it is still a good option to get the job done. If you want to learn more about the Westinghouse Countertop Rotary Microwave Oven, click the button below.
---
The Best Mid-Size Countertop Microwave Ovens
1. Panasonic 1.2 Cu. Ft. Countertop Microwave Oven With Inverter Technology (NN-SN651B)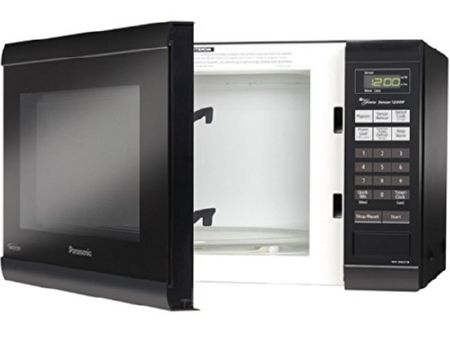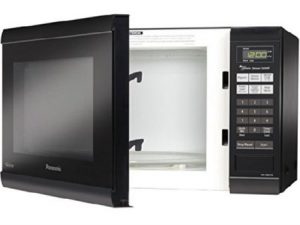 Inverter technology is the newest development in the microwave industry. It's really awesome because it adjusts heat as needed instead of pulsing high heat.
This means your food:
comes out evenly cooked from edges to the center of your plate
is more nutrient filled
still looks and tastes like its supposed to
results are simply more delicious
This microwave oven has 10 power levels and 12 auto cook options. That means that you will be able to cook quickly and efficiently with this microwave so that your meals take minutes to prepare instead of hours because you don't have to figure out things like cook time, heat, adjusting the heat, etc.
The auto functions take care of all that by using its genius sensor cook feature that detects the amount of steam and temperature in the microwave and adjusts accordingly.
The best thing is, this unit is really easy to use and also comes with a child safety function. If you want to learn more about the Panasonic 1.2 Cu. Ft. Countertop Microwave Oven With Inverter Technology, click the button below.
---
2. Cuisinart 1.2 Cu. Ft. Convection Microwave Oven With Grill (CMW-200)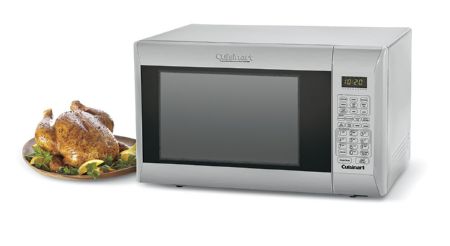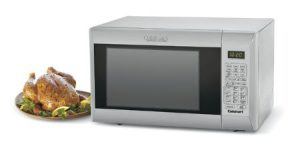 If you want a versatile microwave that can also bake without heating your house up, this unit is a good fit for you. It uses both microwave and convection technologies to enable you to get your cooking done in a couple button pushes.
Yes, you can literally program this microwave oven to switch between microwave and convection mode with its multi-stage cooking function. So for instance, you can program it to defrost a piece of meat for 10 minutes, bake it for 10 minutes and then brown it with the grill for 1 minute to get a crisp golden crust.
The variables are all up to you to choose and this unit will handle the heavy work for you. It also comes loaded with 8 cook functions like convection roast, keep warm and microwave as well as 9 pre-programmed presets like popcorn, pizza and roast chicken.
To give you an idea of what you can bake in this countertop microwave oven, here are a few things others have successfully whipped up:
10″ pie
cake
pizza
and more!
If you love to bake and are looking for a microwave oven, this combo is your soul mate. Click the button below for more details and to read what thousands of others have to say about it too.
---
3. Danby Designer 1.1 Cu. Ft. Countertop Microwave Oven (DMW111KPSSDD)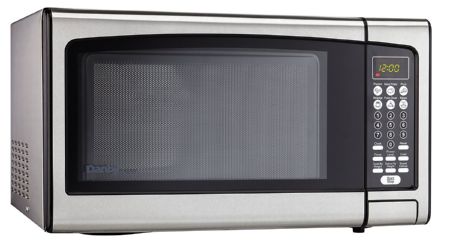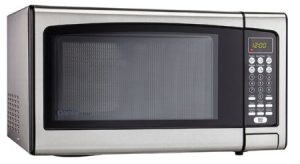 This Danby Countertop Microwave is a simple yet stylish. If you're not looking for something too flashy, this microwave oven will work.
It has everything you need including 10 power levels and 6 1-touch cooking presets like frozen dinners, popcorn and pizza. You can also cook and defrost by weight as well as speed defrost.
The LED screen displays the timer and time so that you will always stay on top of your food while its processing. The stainless steel makes it super easy to clean while also blending in with just about every kitchen setup.
Are you ready to buy the Danby Designer Countertop Microwave Oven? Click the button to learn more!
---
4. Samsung 1.1 Cu. Ft. Countertop Grill Microwave Oven (MG11H2020CT)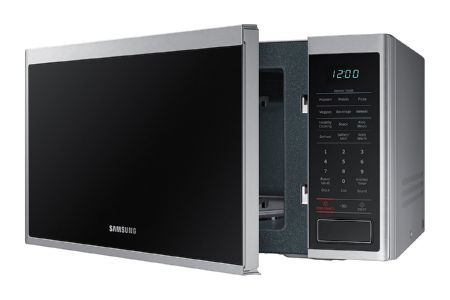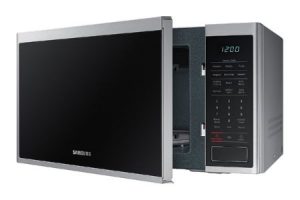 This countertop microwave is one of my favorites. It uses traditional microwave heating with the added benefit of a grill element to crisp foods after they are finished cooking.
In order to use the grill, you will need to use the tray that comes with this unit to lift your food to the element located on the roof of the microwave oven. Then you set it to grill and let your food crisp or brown.
It works very well with pizza crust, leaving it tender and crisp. You can even go outside the box and melt cheese on top of soup until its gold and bubbling.
Some people even use it to do toast. If you want to learn more about what you can do with this unit, click the button below.
---
5. Panasonic 1.3 Cu. Ft. Countertop Microwave Oven With Genius Sensor (NN-SU696S)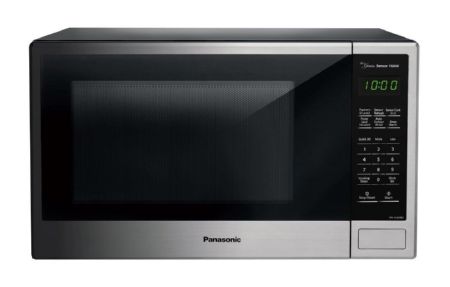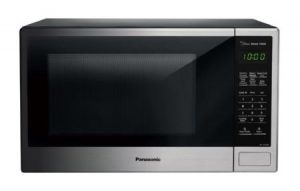 In today's climate, energy conservation is becoming more and more important as pollution and other circumstances continue to negatively impact the planet. This microwave is designed to be eco-friendly by automatically shutting down when you have eco-mode active.
It complies with the DOE Conservations Standards so you know that when you use this unit, you are doing your part to protect our environment.
You can also cook with confidence because even though it is eco-friendly, it does not lose quality of cooking. It has one touch genius technology that cooks and reheats your food automatically.
This function works by measuring the steam then signals the microprocessor to adjust the heat accordingly. As a result your food comes out evenly cooked.
You also have 10 power levels and 7 pre-programmed settings to keep your food prep quick and easy. If you want to learn more about this microwave oven, click the button below.
---
The Best Family Size Countertop Microwave Ovens
1. Emerson 1.5 Cu. Ft. Convection Microwave Oven (MWCG1584SB)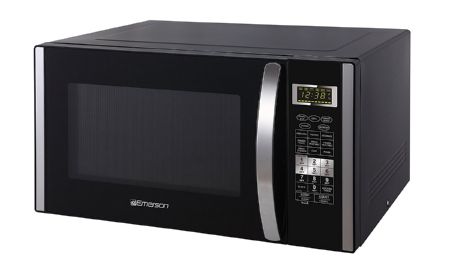 This microwave oven and our number two choice are at a stiff neck and neck. The reason this one won out is because it has the child safety lock feature which for me as a mom and you if you have kids or pets in your life, is very important for safety reasons.
Safety above all else is my motto.
As the title states, this unit has a convection function which means that you will be able to bake with it as well as microwave. The convection works by circulating heat evenly inside of the microwave oven to leave you with evenly cooked food.
It is loaded with 11 power levels, 3 cooking functions and 9 cooking presets including potato, dinner plate and cake. These will allow you to cook your food exactly how you want it in a matter of minutes without heating up your house and making a big mess in your kitchen.
That means easy clean up which will get you to relax or/and family time even quicker which is the next most important thing after family safety 😉
If you want to learn more and read what others have to say about this unit, click the button below!
---
2. Toshiba 1.5 Cu. Ft. Microwave Oven With Convection (EC042A5C-SS)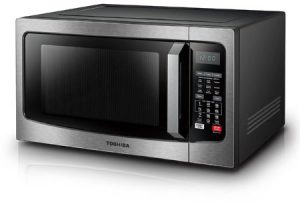 If speedy cooking is what you want then speedy cooking is exactly what you get with this Toshiba Microwave Oven. It has several auto cook and bake functions for you to utilize.
That means that your pizza, muffins, chicken, or whatever you are cooking will get started cooking, literally at the push of a button. It comes loaded with preset cooking functions like frozen pizza, whole chicken and muffins to name a few.
You can also set the weight for each to make sure it gets done right and on time. It also has a keep warm setting so that your food doesn't go cold if you have to wait a while after its done for whatever reason.
The capacity is really big too. At 15.5 in by 15.35 in by 10.2 in, you can really get some serious cooking or baking done in this unit.
Click the button below to learn more about this unit and see how much others are in love with it too!
---
3. Samsung 1.4 Cu. Ft. Countertop Grill Microwave Oven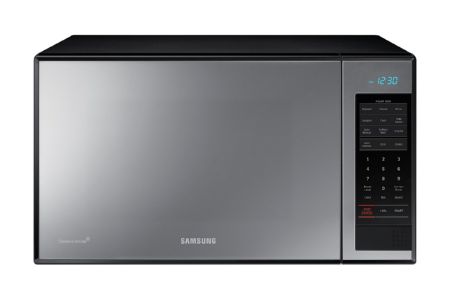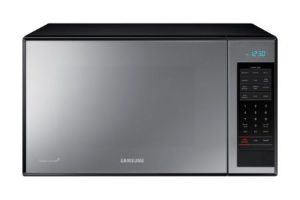 If all you need is a way to brown or crisp your food than this microwave oven is a good choice. It is a standard microwave oven with a grill element at the top.
Though this part cannot bake, you will still find it useful for things like:
Melting gooey cheese over soup or toast

Browning pizza

Adding a crispy layer to your meats or making batter more crunchy

Etc.
One thing you should know about this unit is that you might have difficulty seeing into it due to the black and mirror tint finish on the door. It is very hard to see in.
Still, this has other great features like eco-mode so that you can live more sustainably and loads of instant cook presets to keep your cooking quick and easy.
Click the button below to learn more about this unit.
---
4. Sharp 1.4 Cu. Ft. Countertop Microwave Oven (ZSMC1442CS)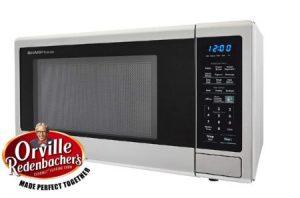 This microwave was made to pop popcorn. If you want perfectly popped kernels, you will be happy to know that this unit is Orville Redenbacher Certified for making awesome popcorn.
It has a special preset that is configured for best popping results whether you are eating a mini bag or large bag. All you have to do is push the button once for a 1.75 oz bag, twice for a 3 oz bag and three times for a 3.5 oz bag.
In addition to this, it also has awesome features like sensor cook that automatically sense and cooks your food, express cook which speeds cooks your food and auto defrost. It also has a bunch of cooking presets including sensor reheat, frozen entree and beverage.
You can fit a full-sized dinner plate in here so feel free to prepare your family's meals ahead of time so that after work all you have to do is pop them in and press 'sensor reheat' to get dinner on the table!
If you want to learn more about what else you can do with this unit, click the button below
---
5. Samsung 1.4 Cu. Ft. Countertop Microwave Oven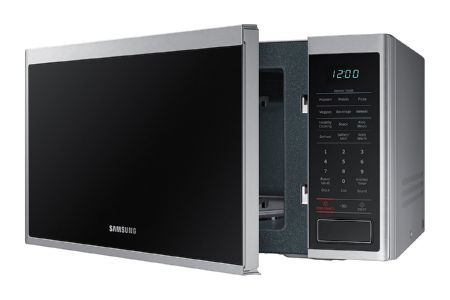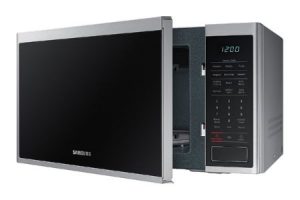 Of the family-size microwave ovens, this is the simple designed model. It gives you everything you need without all the complicated, add-on features.
But don't let its simplicity fool you. It utilizes state of the art technology by way of its Triple Distribution System that greatly improves heat distribution while cooking which leaves you with more evenly and thoroughly cooked food.
You also get a ton of presets like healthy cooking, veggies, popcorn and potato to name a few. It is also eco-friendly because it conserves energy by turning off the display while the unit is not in use.
This method of energy conservation is even more successful than unplugging it.
You can turn the sound off if that bothers you too. If you want to learn more about this unit, click the button below.
---
I hope this information has helped you make a more informed decision so that you can choose the right countertop microwave oven for your needs. Remember that you don't need all the fancy bells and whistles if you don't use them.
On the other hand, maybe you might want to try something new. I can tell you that baking is a lot of fun, especially if you have kids.
So maybe that is something you might want to try if you've never baked before. There are tons of recipes out there so don't feel intimidated about cooking.
Microwave ovens are great tools to take your cooking to a new level in a very simple way. They are also great for keeping your cooking healthy instead of depending on fried fast foods.
If you have any questions comments or other feedback, please leave them in the comments box below. Hope you enjoy your new microwave oven and I'll see you next time!
Want to see more of our 'Best of' Appliance Lists? Check these out!