Air fryers are quickly becoming the world's go-to tool for whipping up quick, delicious, healthy meals that taste and feel like fatty fried foods. In some cases, they don't exactly mimic their unhealthy counterparts.
But in other instances, they fall short. Regardless of if they hit or miss on taste, the food is always cooked to perfection and I haven't found a person who said they hated the outcome of their food.
So now you want to know what're the best air fryers of 2020 so that you can get in on the action too? That's awesome, keep reading to find out the latest and greatest info on these trendy appliances.
What're The Best Air Fryers In 2020? An Overview
How To Choose An Air Fryer?
One of the reasons I'm writing this guide is because not all air fryers are made equally. Some are very poorly made but look amazing.
They overheat easily and can do some serious damage to your countertop, electrical system or even start a small fire. Yikes!
That is why it's so important that you take the extra time to completely read this guide so that you can be properly informed about what you need to look for in one of these units even if you move on from here.
Capacity
The first thing you need to think about, and probably anyone's initial thought, is the size of the air fryer you need. Even more specific than that, think about the amount of food you can cook in it.
The size of the body is no indication of the amount of food it can cook. Instead, it is determined by the capacity which is usually measured in quarts or/and liters.
If you are only cooking for yourself then you will need a much smaller capacity than a family with children. Here's what I recommend:
1 person/single person = less than 3 quarts
2 people/couple/roommates/etc = 3 – 5 quarts
3+ people/families with children = 5+ quarts
Personally, I always go for the largest capacity of any appliance, even in my single days but I've always been an overkill kind of person. My motto is that it's better to have too much than too little and it hasn't failed me yet, haha!
Safe Electricity and Features
Air fryers run by electricity. Since they are a cooking unit, there will be heat involved.
If you choose a unit that is not properly equipped to handle the ware of cooking, you may open yourself up to hazardous situations like:
electrical blowouts
fried wires
overheated unit
overheated countertops
To make sure you avoid these potentially dangerous situations, be sure that the air fryer you choose has been manufactured with safety mechanisms that shut it off before they happen. Features you need to look for are:
auto-shut off
circuit short detection
Of course, manufacturers could just be selling you a story, so to ensure that the unit actually has these features, be sure they have at least an ETL certification. Some others you might see are UL, CSA, and NRTL.
Functionality
How well you can navigate around your air fryer is what seals the deal in getting your dinner on the table quickly and on time. If you can't figure out which button does what, then you might be in a continuous loop of confusion for quite some time.
And that's not a good situation for anyone's hungry belly involved, including yours!
So make sure that the temperature gauges, presets and other buttons or dials are laid out in a fashion that you understand. You can easily do this by looking at pictures on the air fryer's listing.
I know Amazon has a function where you can zoom in on a certain area of a product. Use that feature to really get a good understanding of the layout.
Additionally, you want to do the same for the basket. Have a look at how the release button works and where it is. Some have a button guard over it to be sure that you don't accidentally knock it loose.
Every unit should also be easy to clean. Most cooking surfaces are non-stick which means that you can easily wipe it out with some warm water and dish soap on a dishcloth because your food will not crust over or stick in any way.
A tip here is to not put any parts of your air fryer in the dishwasher because even though many manufacturers claim they are dishwasher safe, it causes rusting and peeling.
Your air fryer should be easy to use from start to finish so that cooking a healthy meal for your family is a snap.
Watts
The final thing you need to consider before deciding on an air fryer is how much watts it uses. They tend to range between 1300 and 1800 watts.
The number of watts an air fryer uses will determine its power and how much electricity it uses up. I will leave it up to you to decide which option is best for you but here is how watts work.
Lower watts use up less electricity which means that you can save on your electricity bill. The downside is that cook times will be longer but in some cases, this makes a better, more evenly cooked product.
Higher watts mean that the unit will have a higher power and as a result, use more electricity. They cook much faster but some might not cook as evenly.
I wonder if you can guess which one I choose? lol. Just like I mentioned before, my motto is better to have too much so I always go for the higher watts.
I'm also not a penny pincher which you can't be anyway when you're a woman over 6 ft, lol! #talgirlproblems
Now that you know everything you need to know about choosing your air fryer, let's get into which ones are the best units of 2020!
What're The Best Air Fryers of 2020?
Best Choice Products (BCP) 5.5 Qt Air Fryer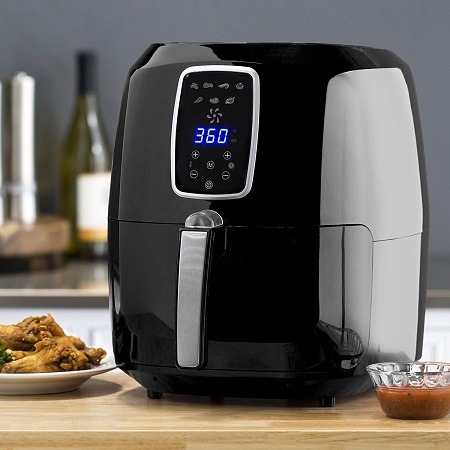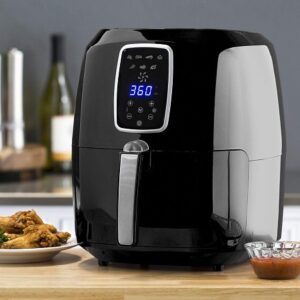 If you are a beginner to using an air fryer or just like things to be straightforward and simple (raises hand, yes please!), this unit is for you! The buttons are all clearly marked and easy to understand while the LCD screen is big and easy to read.
It comes with 7 preset cooking temperature and time settings so all you have to do is choose whatever you are cooking and let it do the rest of the work for you. These presets are:
fries
vegetables
cheese
seafood
meat
baked goods
warm-up
You will also love that you can choose from 3 colors. That way you can get a color that speaks to you if you're not a fan of the standard black.
Its basket is huge which means that you can cook for your whole family or even prep cook with ease. And you can feel safe while operating this device since it is ETL and UL certified for safety and the materials it is made with are FDA certified.
The only possible downside about this unit is that it is not dishwasher safe but I feel like this isn't a true flaw. From my research, I've found that people say do not dish wash the parts of almost every other type I researched and there were a lot.
I think by saying that the pieces like the basket, pans, etc. are not dishwasher safe upfront, BCP is being honest instead of being like the many others who claim theirs are but they really are not.
They are really easy to clean so this is not a deal breaker either. All you need to do is wipe everything with some warm, soapy water and a dishcloth.
The bottom line is that you are going to love using this unit just like the hundreds of people who have already expressed their joy with it. See what they are saying by clicking the button below.
Click here to learn more about the BCP 5.5 QT Air Fryer!
---
Farberware Multi-Function Air Fryer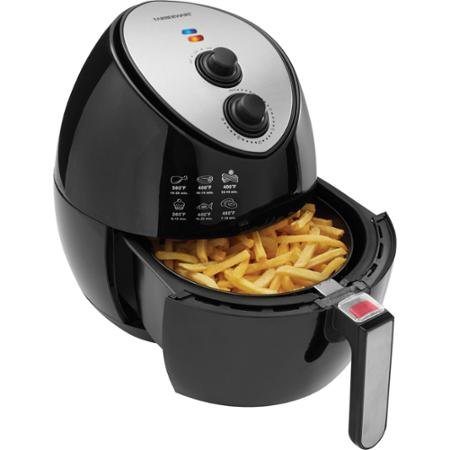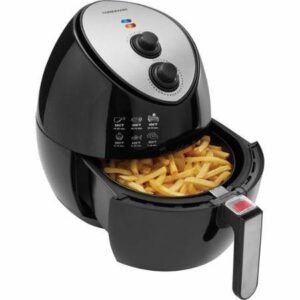 This air fryer is for you if you are either looking for a temporary unit or will not be using it all the time. The reason I say this is because the markings wipe off easily from constant cleaning BUT it still cooks very well.
These markings show up as a preset guide of popular meat cooking times and temperatures as well as the increments of time and temperature on each knob.
So pretty much, once they're gone you will have to guestimate or get a new one. It heats up to 400°F and times up to 30 minutes.
With a capacity of 3.3 quarts, you won't be able to cook large amounts at once either. That is about the equivalent of a small Cornish hen.
But that might still work for you if you are doing a side dish or have smaller amounts of people to cook for like only yourself 😉
This unit is known to stick with some foods but there are a couple ways for you to remedy this with parchment paper rounds and poking a bunch of holes in it.
Overall, the Farberware Multi-Function Air Fryer is a great unit. Many people rave about how well it cooks snacks like kale and apple chips.
If you want to learn more about it and read what others have to say, click the button below.
Click here to learn more about the Farberware Multi-Function Air Fryer!
---
GoWISE USA 8-In-1 Air Fryer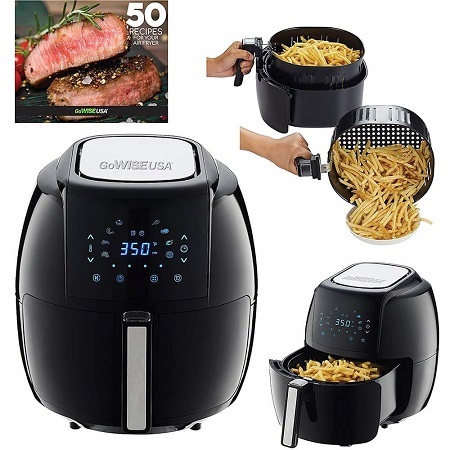 You will fall instantly in love with this air fryer especially if you have a large family or cook in bulk like prep cooking for the week. Its basket is huge!
It is large enough to fit a 5 lb whole chicken in there. And by the way, this unit can also cook it properly too.
You will also love the large variety of colors this unit comes in like Teal, Blush, and Plum to name a few. That means that you can get one to match your kitchen color scheme, choose your favorite color or perhaps just try something different. Yes!
Unlike most models that use buttons, all of the functioning for this unit happens on a touchscreen so you won't have to worry about markings rubbing off, losing cooking instructions or any of that. Plus its a very modern feature and who doesn't like modern technology right?
This one makes it super easy for you to cook with 8 presets that take out the guesswork of cooking. You just press whatever it is you're cooking and let this air fryer do its thing!
You will also love the 50 recipe cookbook that comes with this unit. It includes recipes for breakfast, lunch, dinner and dessert. Yum!
It will also remind you to shake your food with built-in shake alarms. This is something that can be easily missed since food doesn't take long to cook in the first place so having the alarm to remind you is very nice.
When you use this unit, you can rest assured that the surface you are cooking on is eco-friendly since it is FDA certified for using PFOA-free non-stick on its pan.
Lots of people praise the GoWISE 8-In-1 Air Fryer for cooking food perfectly and being easy to clean with no leftover oil smell. If you want to learn more about this unit and read some of the awesome things people have to say, click the button below!
Click here to learn more about the GoWISE 8-In-1 Air Fryer!
---
Super Deal Electric Air Fryer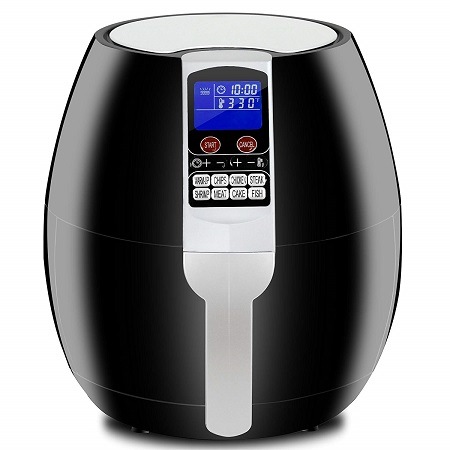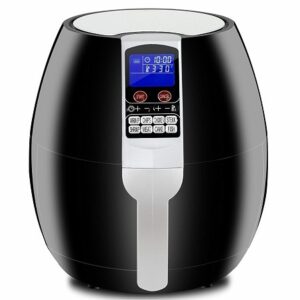 When you use the Super Deal Electric Air Fryer you can feel safe knowing that you are using a device that is safe and built with your well-being in mind. It has several certifications for safety and using safe materials that are proof of the integrity behind this unit and company.
Some of these certifications include:
And the list goes on believe it or not!
You will also enjoy that it works great too unlike some units that have these qualities but lose quality as well. Nope, this unit will cook your food to crispy perfection without sticking so you will be eating a delicious meal with easy cleanup.
This unit allows you to be versatile too. It has an accessory kit that you have to buy separately but it will allow you to grill, bake and more!
At 3.7 quarts, its capacity is a little small but that also depends on what your needs are. To put it into perspective, you will be able to cook about 8 wings or a small Cornish hen in the basket.
Many people end up loving this air fryer so much that they gift multiple to others as well. See what all the fuss is about and learn more about this unit by clicking the button below.
Click here to learn more about the Super Deal Electric Air Fryer!
---
Cozyna XL Air Fryer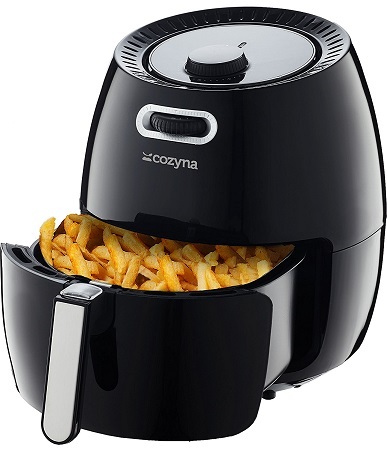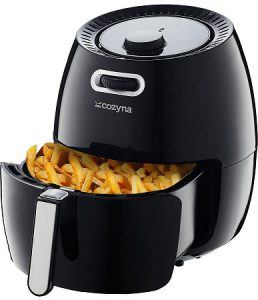 The Cozyna XL Air Fryer is designed to give you versatility in your cooking. You may also end up finding yourself cooking exotic dishes that you would have never thought of trying otherwise.
Why? Because, for one, this unit comes with not one but two cookbooks full of unique and traditional recipes. Here's a sample to get your taste buds watering:
Thai mushrooms
Molten chocolate lava cake
French fries
Chicken Meatballs
and more!
On top of that, the design of this air fryer make it good at cooking a wide range of foods like:
croquettes
clams
battered chicken and fish
calamari
The best thing is that whether your family is big or small there's one of these units for you because it comes in two sizes. The smaller size is 3.7 quarts and the larger, family size is 5.8 quarts.
You will also enjoy the fact that this air fryer does not produce smoke when it cooks so your house will not be hot or smokey when you use this unit.
Join thousands of others who have already taken their cooking outside of the common cubicle with this unit. Click the button below to learn more and see the joy of colorful cooking.
Click here to learn more about the Cozyna XL Air Fryer!
---
Secura XL Air Fryer & Accessories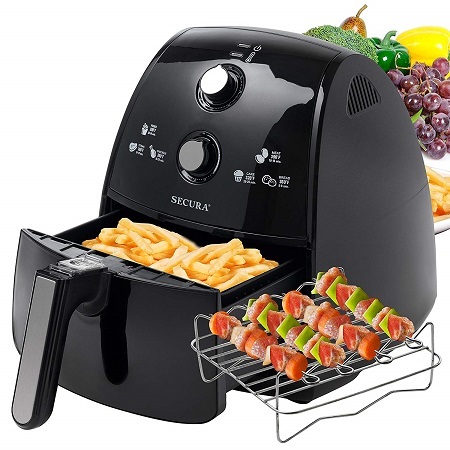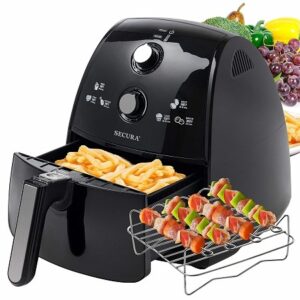 You can get excited about this air fryer because it comes in a variety of sizes but also the accessories that it comes with allows you to do more with your cooking!
For example:
the rack allows you to cook bacon to crispy perfection with no grease issues
the skewers enable you to make shishkabobs of your design
the cookbook gives you ideas of what to fix which takes out the guesswork especially on those busier days when you don't have time to plan anything
I really like that the timer on this fryer is 60 minutes which is longer than most air fryers. That's because a lot of time I like my food cooked longer than the average especially when it comes to steak, chicken and bacon.
Though it cooks very well, it seems to have a design flaw with the drawer because many people report that it doesn't go back in properly once you take it out. This is up in the air because sometimes with things like this if you push it too hard or you're in a rush, it's easy to make errors lining things up.
If you want to learn more about this unit and see what others are saying too, click the button below for more info 🙂
Click here to learn more about the Secura XL Air Fryer!
---
Avalon Bay Air Fryer With Baking Set
If you love whipping up sweet treats than you are going to love this air fryer. I'm not going to lie, I am excited about this one myself JUST for the baking set!
It also comes with a rack and a 52-page cookbook that will give you all you need to put together some yummy desserts. I'm not sure how this works as being healthier or not since baked desserts are not fried in the first place.
But I can tell you that they'll come out delicious and with much easier, faster clean up than using the oven.
If you are health/environmentally conscious, you'll be happy to use this as it is BPA and PFOA free. The baking pan, however, is regular nonstick
The basket is on the small side. You can fit about 2 leg quarters in it at one time but at the same time, it cooks hand battered foods very well.
You will also find that you can choose between if you want this unit digital or analog. Digital being the temp and time are displayed on a screen and Analog is the knobs.
There are plenty of people enjoying this air fryer who want to share in the joy with you. Click the button below to read what they are saying and learn more about this unit.
Click here to learn more about the Avalon Bay Air Fryer With Baking Set!
---
Power AirFryer XL Deluxe Air Fryer With Accessories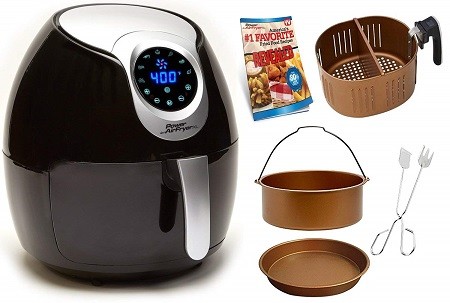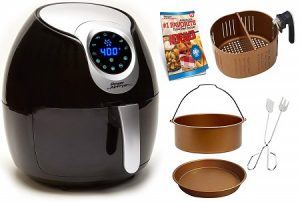 Cooking for a large family can be tough but with this Power AirFryer set, your job is made a lot easier. First of all the unit is preloaded with 7 preset cooking functions:
Roast

Air fry

Bake

Steam

Saute

Grill

Manual input
Then it is equipped with a large basket that is big enough to cook a large hen or turkey breast. That's plenty for four hungry mouths or however many you have to feed! (unless its more than 4 of course, haha! 🙂 )
You can also feel safe when you cook food for your family with this model because it has no PTFEs nor PFOAs in its non-stick. The nonstick is a type of ceramic.
The downside to that is that food will stick but you can do a quick Google search and find out how to get around this problem.
For those days you are racing, you can just grab and go with the basket on this air fryer without worrying about getting burned by it because it has a cool touch, easy grip coating. It also has auto-shut off just incase you forget it altogether off doing something else.
For some reason, that happens to me ALL the time so I know.
Some people say the basket on this unit is pretty difficult though, saying it is difficult to go back in when you take it out. Others have said that you have to be very gentle putting it in then you will have no problems.
If you want to learn more about the Power AirFryer XL Deluxe Air Fryer, click the button below.
Click here to learn more about the Power AirFryer XL Deluxe Air Fryer,!
---
Yedi Houseware 8-In-1 Air Fryer With Accessories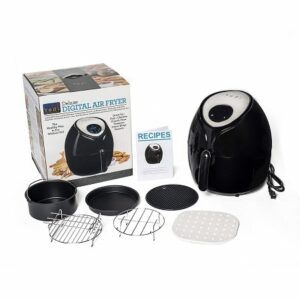 The only word that can sum up the Yedi Houseware 8-In-1 Air Fryer is VALUE! You get a LOT with this package and the price is amazing which means you won't have to settle for less!
It comes with 7 presets for popular meats and baking and a ton of accessories.
50 perforated parchment papers

8" cake pan

8" pizza pan

Multipurpose rack

3 stainless steel skewers

Metal holder

Rubber mat

Starter recipe book

Cook timetable
You can really get creative with all these tools. There is so much you can make like cakes, shishkabobs, etc. and the rubber mat separates the heat from the hot fryer and your counter so it doesn't heat it up.
You will also feel more secure to know that this unit comes with a 1-year warranty for full refund or replacement. So if it breaks, within a couple of months, you can easily get it exchanged or refunded your money.
I love the size of the basket on this too. It is big enough for you to cook a whole chicken in.
It also has the most certifications for quality and safety that I've ever seen. 11 in total, but some highlights are:
I know you will love the auto shut off feature on this unit too. It works by automatically pausing the cook cycle when you remove the basket and automatically resumes the cook cycle when it is replaced.
Talk about a game change and time saver!
I'm telling you. Don't let this immense value slip away! To learn more about the Yedi Houseware 8-In-1 Air Fryer, click the button below.
Click here to learn more about the Yedi Houseware 8-In-1 Air Fryer!
---
Philips Advanced XL Digital Air Fryer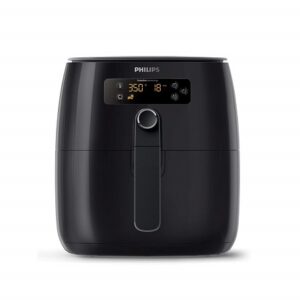 When you see a big name like Philips, you know you're getting a product that is of quality standards.This air fryer works with their Turbo Star Technology that helps to cook your food 50% more evenly.
This unit is loaded with 4 cook presets and also includes an app that you can gain access to with 200 recipes! Now that will keep you busy for a while.
You will also enjoy the keep warm feature which keeps your food warm for instances where you won't be able to get to it right away. Maybe you have other things cooking or someone's running late from work. You know how it goes 🙂
As expected from one of America's top companies, all cooking materials used in this unit are BPA and PFOA free. But I have to admit that I find it a little bit disappointing that they haven't got any certifications to verify these.
You can get this unit as analog (knobs) and digital (LCD screen) and it cooks all foods to crispy perfection.
If you want to get on board with this leading company then click the button below to learn more about the Philips Advanced XL Air Fryer by clicking the button below.
Click here to learn more about the Philips Advanced XL Air Fryer!
---
NuWave Brio 6 QT Digital Air Fryer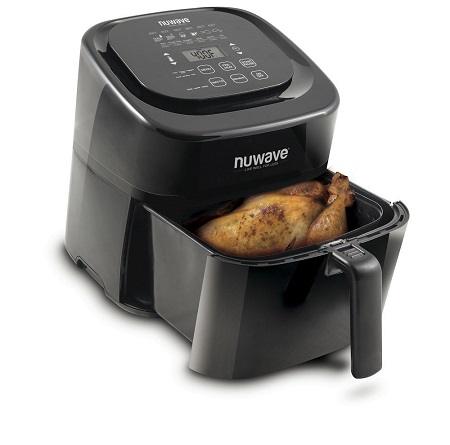 There's huge and then there's HUGE! If you have lots of cooking to do with a limited time to do it, you will love this air fryer.
It is a whopping 6 quarts which is much bigger than most large air fryers. With space like that, you can cook a full bag of fries at once!
Another feature you may enjoy with this unit is the timer goes up to 100 hours! Of course, you're not going to use all of that time but you will be able to customize cook times to where you like them.
It is definitely an air fryer that you can grow with as it also comes with 6 cooking presets for popular food items. So if you're a beginner, you can start with these and as you learn different recipes and become more advanced, you can break off to a more manual style of cooking.
The only downside to this unit is that food sticks to the pan. This is easily remedied with parchment paper but make sure that you do your research first.
Lots of people love this air fryer. If you want to see what they are saying and learn more about this awesome air fryer, click the button below.
Click here to learn more about the NuWave Brio 6 QT Digital Air Fryer!
---
Using an air fryer is a really great way to cook familiar feeling foods that are more healthy for you and your family. This is sometimes even necessary as our bodies don't just lose the want for fried foods simply because we make the decision to get healthy.
By giving it something familiar, you will significantly increase your chances for success by blocking those craving urges and the need to eat something crunchy.
Additionally, they are an awesome tool to use for baking and cooking so that you won't be heating up your whole house. That's especially nice in the summer months when its already hot outside, you don't need to make it hot inside too if you don't have to.
I hope this information has helped you find your new air fryer. Enjoy creating some new favorites and savoring old faithfuls if you're a seasoned air fryer user.
If you have any questions, comments or other feedback, please leave them in the comments box below. See you next time!
Want to see more of our 'Best of' Appliance Lists? Check these out!